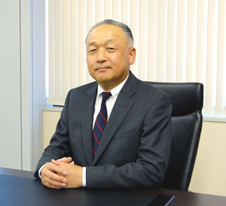 TATSUMI MARINE CO., LTD. is an ocean transportation company, established in 1977, whose parent company, TATSUMI SHOKAI CO., LTD., provides worldwide comprehensive logistics services.
Marine transportation companies have an important role of the enhancement of living standards for the future, transmission of cultures, and promotion of industrial developments by leveraging each global route on the sea covering two-thirds of our Earth's surface.
Regarding marine transportation, a significant attention is paid not only to move goods from one place to another, but also manage missions as quickly and safely as possible. Most of our clients in Japan, the United States, and Europe have increasingly established very strict safety standards for this issue. In order to meet and exceed their expectations, we at TATSUMI MARINE have been devoted together to the fulfillment of our missions. And to date, fortunately, we have obtained overwhelmingly positive evaluations from our clients.
In order to accommodate various needs from our clients, all the staff at our company and the TATSUMI group attempt to enhance their expert knowledge of the oceans, harbor facilities, vessels, and cargos, and furthermore always keep in mind principles of transportation safety, compliance with relevant laws and regulations, and conservation of regional environments.
We are determined to devote our efforts for safe and stable transportation of cargos, based on our principle, "Safety to be the highest priority."
Your interest in our company and the TATSUMI group is much appreciated. We look forward to your continued support and understanding.
April 1, 2014

Hiroaki Kambara
President